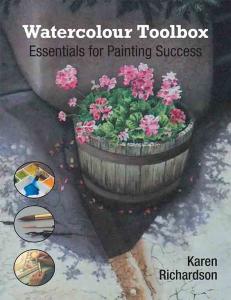 [Port Perry, ON Ė August, 2013] Port Perry author and artist Karen Richardson believes virtually anyone can learn to paint, using just three tubes of paint and a back-to-basics approach.

Richardsonís new book Watercolour Toolbox: Essentials for Painting Success will help beginner or experienced artists avoid or fix the inevitable challenges of working with watercolour. She identifies simple solutions to the most common issues encountered on the learning curve of painting. Watercolour Toolbox is illustrated with 40 of her paintings and features step-by-step demonstrations for creating realistic stones, flowers, landscapes and buildings. Beginner or experienced artists can gain the knowledge and confidence they need to make stunning, lifelike paintings.

Richardsonís book is available for ordering from www.watercolourtoolbox.com, from retailers in downtown Port Perry (Books Galore, Framers Gallery and Meta4 Gallery), the Dark Horse in Sunderland, as well as most book...